Ho'oponopono & EFT Tapping Practitioner
Payment Options: Pricing is in both £UK and $USD - Please note that if you wish to pay via PayPal please select the $USD option.
Your Personal Invitation
This is your personal invite to join me in this combined Ho'oponopono & EFT Tapping Practitioner course and discover the power of combining these two helping areas. Whether you want to use this information to help yourself, to help others or maybe a combination of both, in this course you'll learn exactly how to do that.
When I discovered Ho'oponopono a little over two years ago I knew that I had found something very special, and I was right. What I didn't know at the time was how it would work it's way into my life and how I'd discover the natural link to EFT Tapping. Now that I have discovered this and made it my own, you can now discover it as well through this course.
"These simple words, when directed to the source of your pain, can transform the experience in a moment" - Dr. Joe Vitale
In this course you'll discover.......
How Ho'oponopono connects so effortlessly with EFT Tapping with powerful results
The Four Key Statements of Ho'oponopono and why they are so effective
The Fifth statement only learned at Master Practitioner level
How using Ho'oponopono for yourself, helps others as well
How to use Ho'oponopono and EFT Tapping to help yourself and others
The 3 Selves and the power of 'I'
Who is this course for? This course is for you if........
You want to help yourself have a clearer and more fulfilled life
You want to help those close to you
You are a Coach, Complementary Therapist or Practitioner and want to help even more clients
You want to make a positive impact on the world 
"The goal of life is to make your heartbeat match the beat of the Universe, to match your nature with Nature" - Joseph Campbell
Will you allow me to show you how to create powerful changes within yourself and help others to do the same by combining Ho'oponopono and EFT to create something magical? Will you allow me to do that?
I really hope that answer is yes as I cannot wait to let you see, hear and feel what the combination of Ho'oponopono and EFT Tapping can do and the impact it can have. This course is designed to show you how to use both of these amazing tools and how to combine them to remarkable effect. The whole is so much greater than the sum of its parts...... and it's parts, Ho'oponopono and EFT, are already amazing on their own.
EFT Tapping had been a part of my life for many years as I discovered it to help my wife an found that it helped me as well. I practice it daily and have trained in several variations of it and with each I discovered a new level. However, when I decided to work on combining it with Ho'oponopono I opened up something truly amazing. Now, I'd love for you to discover that as well, would you like to?
Take up my invite, come and join me in this course and allow me to show you how to combine Ho'oponopono and EFT Tapping to create something truly special.
Hit the "Buy Now" or "Enroll Now" button and I will see you in the course.
With Love and Gratitude,
Graham
What others are saying about The Priority Academy

Totally enjoyable....
"Graham is such a detailed teacher. I am really enjoying the courses. They are filled with so much helpful information to assist me in being a more effective transformation coach for myself and clients. Graham is pretty funny too and it makes the sections enjoyable to engage with"
Amity Rose via TrustPilot

Best courses ever....
"The Courses that are supplied by The Priority Academy are the best I have come across, just by the way Graham explains and talks you through each step are amazing. I have completed 4 courses and will be continuing on my journey of self discovery with further courses supplied by The Priority Academy. Thank you Graham and The Priority Academy"

Excellent and compassionate....
"I absolutely love Graham's courses. I have taken 5 so far and in the middle of The Strategic Life Coach Practitioner course and already signed up to his monthly plan with many more courses waiting for me. I love the way Graham puts so much passion into each course and with each course gives excellent step by step instructions and course content that anyone can follow."
Petula Glave via TrustPilot
30 Day Money Back Guarantee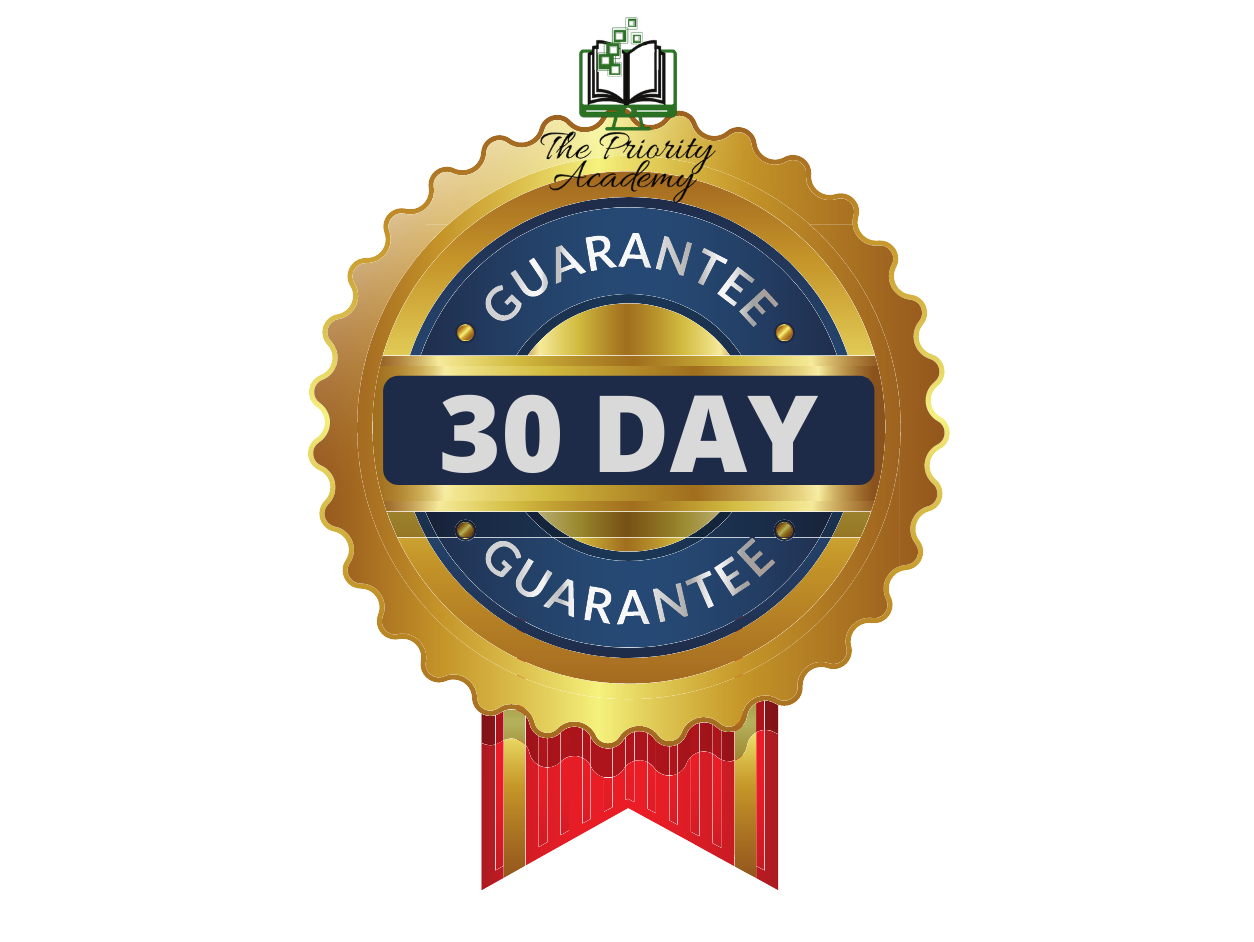 30 Day Full Money Back Guarantee
If, for any reason, you are not happy with this course you can claim a full refund within 30 days of purchase with no questions asked.
Payment Options: Pricing is in both £UK and $USD - Please note that if you wish to pay via PayPal please select the $USD option.
Click through to Enroll Now and get started today!
Frequently Asked Questions
When does this course start?
The course starts when you are ready! You get instant access and the course is video-based so you can work at your own pace. There's also no time limit so there's no rush, just learn when you have the time.
What if I need help?
There is a Student Support Community that you have the option to join that has over 13500 people in it who are willing to help. Your Instructor, Graham Nicholls, is also in that community and will always do his best to answer your questions.
What if I'm not happy with the course?
You can claim a full refund within 30 days of purchase, with no questions asked, if you are unhappy in any way.
What can I do with this information?
You can help yourself, you can help others or you can study and enjoy the process, the choice is yours.